Developed for the German Research Center for Artificial Intelligence (DFKI).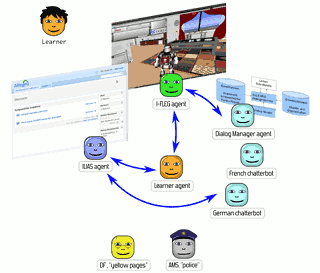 The task was to design and implement a multi-agent system based on JADE that could be used for integrating the work of the project partners (academic research institutions from France and Germany), and then integrate the Learning Management System ILIAS as part of the system.
The integration was achieved by using "liaison" agents: small Java components that when linked into each partner's software gave it an agent representative in the system.
There was a liaison agent for each of the components:
Each agent can report the learner's progress using SCORM messages, a custom XML encoding of the standard SCORM API. I also built demonstration content for the project as SCORM packages to be loaded into the ILIAS LMS.
The learner agent has an AgentSpeak brain provided by Jason.
EC-TEL 2012 Conference poster in English